Calculate Your Compensation Below ↓↓↓
How many times has your compensation been reduced due to "margin compression"?
Retail mortgage "margin compression" exists at the Branch Manger level and above. As rates move up, Branch Managers can't make the overrides they want to make on their loan officers, so they reduce YOUR compensation before they reduce theirs. This is why you are forced to sell rates .5% or higher than a Broker. How many times have you heard, "sell service, don't sell rate"? Well, you can sell both and earn what you are worth as a Broker.
Retail managers always pitch "Broker's have no control on their loan files".  This could not be further from the truth.  Not only do we have access to 10x the Underwriter's compared to Retail mortgage "in-house" underwriters, but we close faster and have less conditions because we aren't trying to sell off the loan the minute the clients walks out of Escrow. As the 3rd largest Independent Mortgage Broker in the Nation, we average Clear to close in 14 days or less and are usually .5% or more lower in rate.  Look at the entire system and see for yourself how you can earn what you worth as a Broker.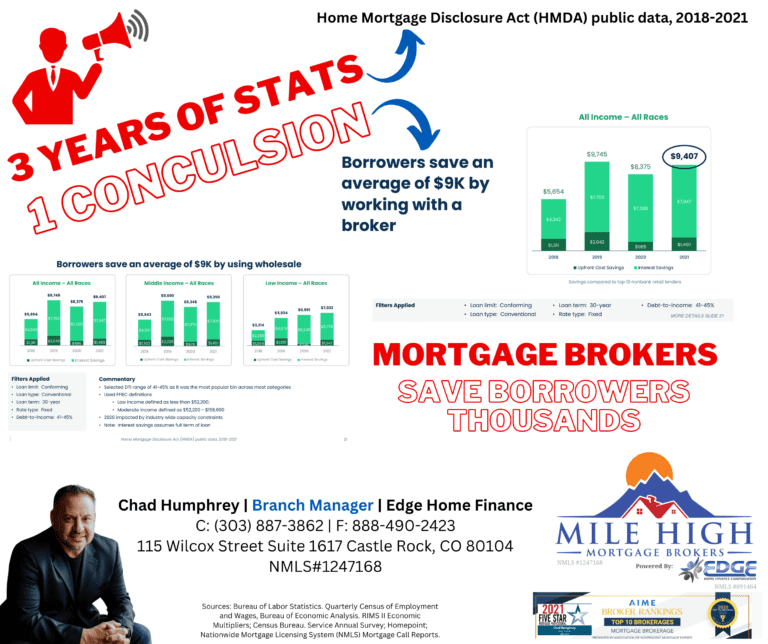 Never Lose a Transaction Again To Rate
If you are in Retail Mortgage Banking, you have been told over and over, "don't sell Rate, sell Service".  The reason you are told that is because the P&L of the company is so bloated with layers of management, office space that is 30-40% used and after everyone else gets paid then there is a little bit left over to pay you 100-125bps.  Do you understand that usually starts around 300-450bps before everyone takes a cut of your transaction?  Let's do that math, price out a few transactions and see for yourself that you can get paid your worth. 
Calculate Your Comp with Edge Here
Run 3 different Loan Amount Averages 
Run 3 different Projected Number of  Closings
Estimate Your Business Expenses
The only company with a very lucrative revenue share plan for Brokers you recruit.  Run estimates below
| | | | |
| --- | --- | --- | --- |
| Average Loan Amount | | | |
| Closings Per Month | | | |
| Total Volume Per Month | | | |
| Revenue at 275 BPS | | | |
| Edge Corp Per Loan Fee $995 | | | |
| Total Expenses Reimbursed To LO | | | |
| Subtotal Revenue Per Month | | | |
| Payroll Processing Expense at 10% | | | |
| Monthly GROSS Income on Pay Stub | | | |
| Annual GROSS W2 Income | | | |
| | |
| --- | --- |
| Edge Monthly Tech Fee | |
| Credit Reports (Estimated 10 x $40) | |
| Technology Platforms | |
| Marketing | |
| TOTAL EXPENSES FOR REIMBURSEMENT | |
Residual Income / Revenue Sharing Plan
Avg Units Per LO
Number of LO's
Monthly Closings x $500
Monthly GROSS Residual Income
Annual GROSS Residual Income
High commission split with no padding on wholesale rates and discounted pricing form our top lenders
Great wholesale pricing with Key Account status from UWM and other leading lenders
Ability to build teams and receive long term residual income
No origination or lender fees to our clients
Fast turn times, our average file is clear to close in 15 calendar days or less
Multi State Licensing
Complete on boarding training, online and in person including paid hotel and air fare for Success Track Training
Inside support forums to get your questions answered
Weekly webinars on various sales and training topics
401K, Medical, Bi Weekly Direct Deposit
Who Works Well In This Model:
Seasoned professionals who already have referral sources established (we do not train new brokers)
MLO's switching from small brokers who do not receive volume discounts or Key Account perks, volume always wins
MLO's switching from retail and correspondent who no longer enjoy losing deals to brokers (no fees at Edge, substantially lower pricing)
MLO's switching from retail and correspondent who realize that since they self-generate their own business, they deserve the highest splits in the industry
MLO's who no longer wish to attend training sessions from Regional and Branch Managers who try to convince them that rates don't matter, and service is all that counts (even though the underwriting turn times are often 5 times longer what brokers have)
MLO's who now realize that "brokers don't have control over the file" is a lie.  How about a 3 day submit to clear to close for control?
Personal Websites, 3 different options for online applications
Mobile App that allows the client and realtor to generate their own preapproval letter
Brand 360 – full marketing and client relationship experience.
Brand Builder – create completely customizable marketing materials.
Client Connect – completely automate your borrower communications
Edge Connect – on demand support community
Marketing Calendar- schedule social media posts up to 30 days in advance
Automated Surveys to all closed clients
Discounted Continuing Education
Client Loyalty Manager
Much More
Run DU and LP with one click, pick the one that's best for your loan
Elite and Discounted Mortgage Insurance
All Fannie, Freddie, FHA, VA, USDA, Reverse and HELOC's on the market
Nationwide HELOC
Many outlets for Niche and Non-QM Programs
Competitive Jumbo
Now that you have learned more and ran the compensation calculator, the next step is to schedule a confidential call to see the backend of our systems.
Set up a call below